Video: https://youtu.be/R6dVvtTGCS4
Hello, I'm Rogan and welcome to another BookTube post/video! The last one was a little over a month ago. So I have a few books. (Not as many as I would like but oh well.)
Let's get right into it. If you've been watching, you'll know that I've been reading Coming Out for…a while now. And I finally finished it. The book was published in 1992, so it's a little outdated. But…I thought it was interesting, yes. It has a really good variety of writings. Some are studies, some are letters, kind of open letters. Some are manifestos. Some are just stories about the culture there in a country, or what life is like for people living in that country. Sometimes this book is really easy to read through, sometimes it's slow because it uses a lot of academic language, so it becomes really dry and dull. But sometimes it's easy to flip through because it's written like a story. So… Because this is written by a variety of people so of course, the writing styles will be varied. So…That's one thing you have to be aware of going into reading this book. Overall, I thought it was interesting, yeah, but definitely outdated.
Next book: Hyde. Hyde was a really interesting re-telling of a classic story, Dr. Jekyll and Mr. Hyde. This book is set in the Victorian era. But the way it's told, Mr. Hyde is given agency to explore life on his own. Jekyll is still kind of watching him do it from inside his head. It shows the role switching. However, the story is always told from Hyde's perspective. But sometimes it will tell it from when he's in Jekyll's body, watching what Jekyll does, the people he meets and talks with, and whatever. It's interesting because there is death happening in this book. There is…love kind of? Sex. A lot of things happen in this book. I would recommend this book if you like dark thrillers, mystery stories, this is a good one.
Next book is actually my dad's book, Deaf Culture Fairy Tales. I don't know, I was expecting something a little different. But when I was reading through it, ahhh, yeah okay. Basically, what it does is it will take classic fairy tales like Three Little Pigs and the Big Bad Wolf, Little Red Riding Hood, those kind of stories. And re-tell them but with a Deaf twist. Or modify it so all the characters are Deaf. It was really interesting to see how they modified parts of the stories to fit Deaf culture, Deaf stories, Deaf history. Some of the re-tellings were [shrugs] ehh, okay. But some were oh, that's actually pretty good. I think this would be good book for children, CODAs, deaf kids, any kids really.
Next book: Ruby. It was…wow. That was not what I was expecting. I read the description, and I was like okay, fine. But as I read through, wait what? The main characters are Ruby and Ephram Jennings. This is set in East Texas, and they grew up in that town. Ruby, at one point when she was young, moved to go live with a white woman, then moved to New York City. Then came back, and basically the villagers watched her mental health decline. This is not a happy story. It's hard to read, yes, because it does mention–I'm going to censor this word here–child r*pe, adult r*pe. So…This is not an easy book to read. It's good. It is good. But it's hard to get through. I don't want to say too much about this book, but it does include a little voodoo, magic kind of. It is a good book. Just has tough topics in it. So be aware of that.
Next book: The Inexplicable Logic of My Life. I love this author. Honestly, I love this author. This was written by the same person who wrote Aristotle and Dante Discover the Secrets of the Universe. It's so good. Same with Aristotle and Dante, this book has a Mexican-American family. However! The main character (there's two), the boy is adopted by a gay Mexican man. The second, a girl, is Mexican and her family is Mexican. The story is about the boy, mostly about the boy, and how he starts having anger problems, trying to figure out who he is, where he fits in the world. It's really good. His history comes back to bother him again, something happens in his life that causes him and his best friend, Samantha, to be faced with how to deal with grief, how to deal with loss. Ahh, it's really good. This is DEFINITELY another must-read.
Next: Rogue Lawyer. John Grisham's books are always good. When I first started reading this one, I immediately thought, "Oh, this is kind of like Jack Reacher, but in lawyer form." But as I read through, eh, not really. It's about a lawyer that will take on almost any case, but he will often do criminal defense. It's interesting. It has several stories happening that are kind of connected, some are connected, some are just offshoots. It's pretty good. If you like crime, if you like law, if you like action, this is a good read.
Next book, I will not review in this video because I was sent a free copy of this by the publisher to read and review. So… I will make a full video focusing on that. Sensing the Rhythm by Mandy Harvey. It's about her life and such, I will expand more in another video. I'll link that here when it's up.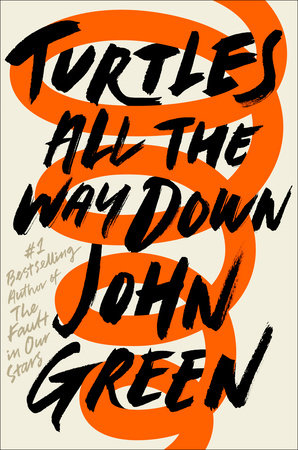 Moving on! Next book, I'm sure a lot of you have already heard of this book. Turtles All the Way Down. And it's signed! My dad pre-ordered this online, so it was sent to us, we got it on the day it came out. I'm a little disappointed that it's not one of the copies where he signed it with extra stuff, or his son added to it, or whatever. But yeah, it's a signed copy so that's cool. That book is SO good! I already kind of want to re-read it. The main character is a girl named Aza. She has these intrustive thoughts that will just keep going, continue to bother her until she does something to make them stop. Or they just keep going. They're thought spirals. And it talks about her dealing with that, trying to recover from it, trying to stop them, reduce them. It's really good! There were a couple times when it was hard to read, but so good.
That's it for the books that I've read in the last month-ish. But I do have a whole stack of books from the library that I really need to get through. So I'm going to put it here to hold myself accountable.
What I am currently reading: The Chickenshit Club. I thought the title was hilarious, and then I read the sub-title, oh yes I want to read this. The sub-title says: Why the Justice Department Fails to Prosecute Executives. It's interesting so far, so we'll see how that goes.
Next two books, I will need to finish reading in the next week or so before they're due at the library. Double Bind: Women on Ambition and The Card Catalog: Books, Cards, and Literary Treasures. The next three books, I have two weeks to read them so I should be fine.
I added the next two books to my list because they were recommended by people I watch and I ended up checking to see if the library had them, I'd decided that if they had them, I'd get them. They had both. Landline and Exit West.
The last one for today. Oh, when I saw this on the shelf at my library, I just had to get it. Let me explain a little bit about my library before I show you the book. In the fiction section, they have one shelf that's half, not a full floor-to-ceiling one. They will have themes, not every month, but if there's something happening that month like Halloween, Christmas, whatever, they will put themed books on that shelf. And they have another smaller section, for like elections coming up, they'll have books about politics. That's how I found some of the political books I've read before. But now, since it's October, obviously the shelf is Halloween-related books. And this book. I saw the title and I immediately knew what it was about: Horrorstör. I think you can guess from the cover…that it's IKEA. And inside the cover, it has a floor plan and "Welcome to ORSK!" Anyway. This is basically a parody of IKEA. Honestly, when I saw the cover, I was like yeah, I'm going to get this, it doesn't matter what it's about, I'm getting it. I read the description–yep, I'm convinced, I'm getting it. So this will be fun to read. I hope.
Now I will shut up and end. These are all due in two weeks, ish, something like that. So you may get another video in two weeks all about these. And also you will be getting a short video about Sensing the Rhythm. So let me know if you've read any of these or want to read any of these. Any books I mentioned today. And…let me know if there's any book you've read recently that you want me to read. I don't know, whatever. Leave them in the comments. I hope you found something to read today. And that's all for today so…
If you want to support my content financially, I would really appreciate it if you joined my Patreon or made an one-time donation to my ko-fi tip jar. Subscribe to my channel. Follow me on my socials – Facebook, Twitter, Instagram. Thanks for reading, see you next time.